StyleShop là một Theme WordPress WooC Commerce hiện đại, sạch sẽ và đáp ứng đầy đủ với bố cục trực quan hấp dẫn cho bất kỳ cửa hàng trực tuyến hoặc thị trường nào , đặc biệt là cửa hàng quần áo hoặc thời trang .
Nhờ thiết kế nhiều trang chủ, bố trí di động đã sẵn sàng, hỗ trợ thị trường của nhiều nhà cung cấp , nó rất dễ sử dụng và có khả năng tùy biến cao với các tùy chọn chủ đề không giới hạn.
Ngoài ra, Styleshop cho phép bạn xây dựng các bố cục độc đáo và nâng cao cho các bài đăng và trang của mình bằng cách sử dụng trình chỉnh sửa kéo và thả xuống phía trước – Trình soạn thảo trực quan. Ngoài ra, StyleShop hỗ trợ chúng tôi rất nhiều tính năng như Hỗ trợ bố cục RTL, Trình chiếu tại nhà tuyệt đẹp của Revolution Slider, Menu Mega mạnh mẽ, Swatch màu, Xem nhanh sản phẩm, Trang sản phẩm, Giỏ hàng Ajax, Hộp tìm kiếm chuyên nghiệp và các tính năng khác.
Với Cài đặt bản trình diễn một lần bấm , việc nhập dữ liệu để có được một trang web thương mại điện tử hoàn chỉnh trông giống như bản demo trong một khoảnh khắc không bao giờ dễ dàng hơn.
CẦN GIÚP ĐỠ? Liên hệ với chúng tôi bất cứ lúc nào tại Hệ thống bàn trợ giúp của chúng tôi để nhận trợ giúp trong mỗi ngày làm việc.
CẬP NHẬT MỚI phiên bản mới nhất 1.5.8: Phát hành vào ngày 25-20-2020 | Thay đổi
THIẾT KẾ WEB DI ĐỘNG NÓNG
Bạn có muốn có một cửa hàng trực tuyến chuyên nghiệp trên thiết bị di động?
Không giống như các chủ đề khác chỉ hỗ trợ bố cục đáp ứng, StyleShop được xây dựng với cả bố cục đáp ứng và thiết kế web dành riêng cho thiết bị di động với đầy đủ các tính năng của cửa hàng, được thiết kế và phát triển riêng cho thiết bị di động. Đây là xu hướng của cửa hàng trực tuyến – khi việc sử dụng và mua sắm qua điện thoại thông minh đang tăng lên nhanh chóng!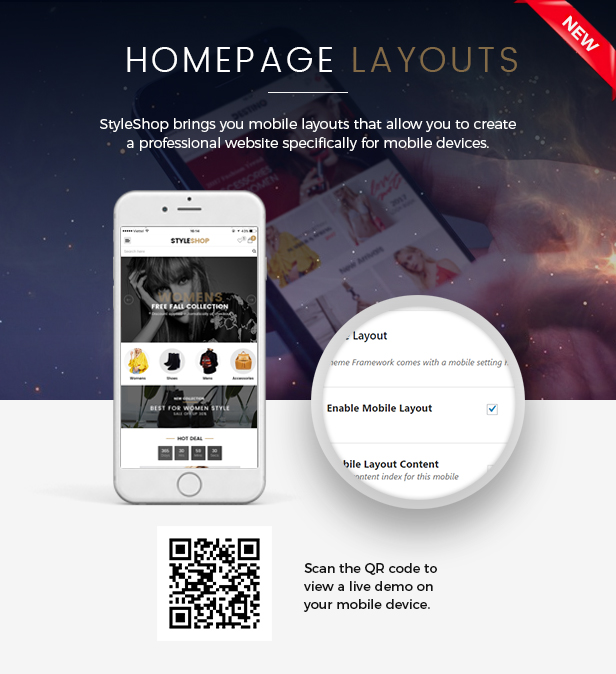 Bằng cách sử dụng bố cục di động, bạn có thể xây dựng một trang web thân thiện với thiết bị di động và mang đến cho khách hàng của bạn trải nghiệm mua sắm di động tuyệt vời.
You're able to enable these layouts in theme option based on your market strategies. When you disable mobile layout, the theme will use the responsive layouts as default.
MUCH EASIER TO CREATE A MULTI-VENDOR WEBSITE
If you want to build a multi vendor marketplace website, this will surely meet your requirements for a multi vendor marketplace WordPress theme.
StyleShop is fully compatible with Mulitvendorplugins like Dokan Multivendor, WC Vendors and WC MarketPlace.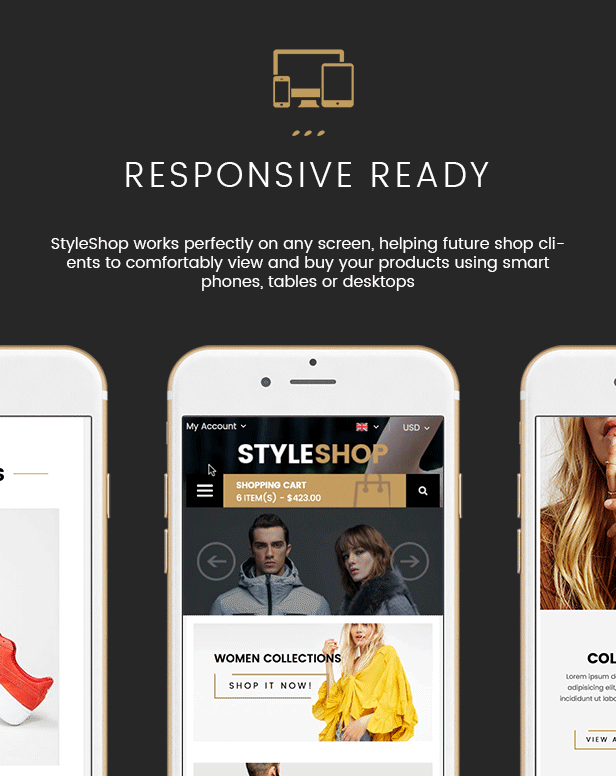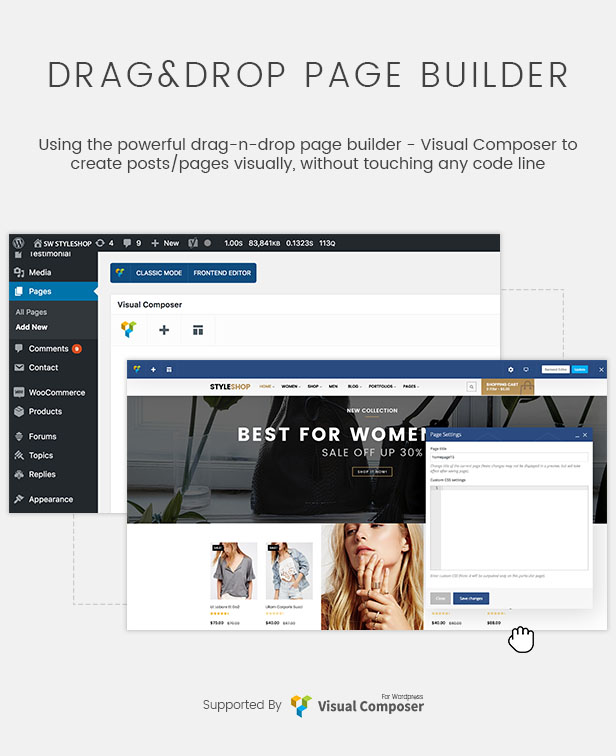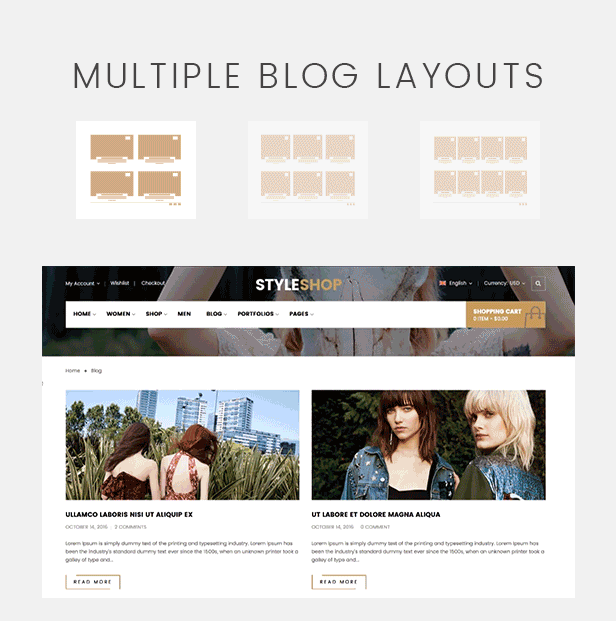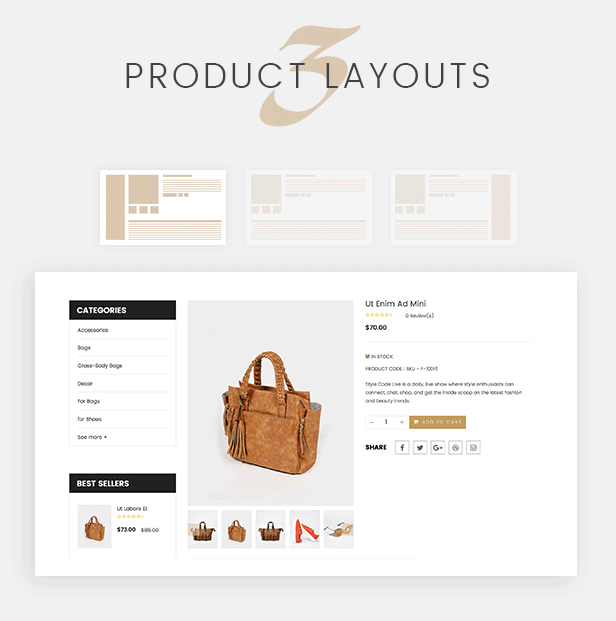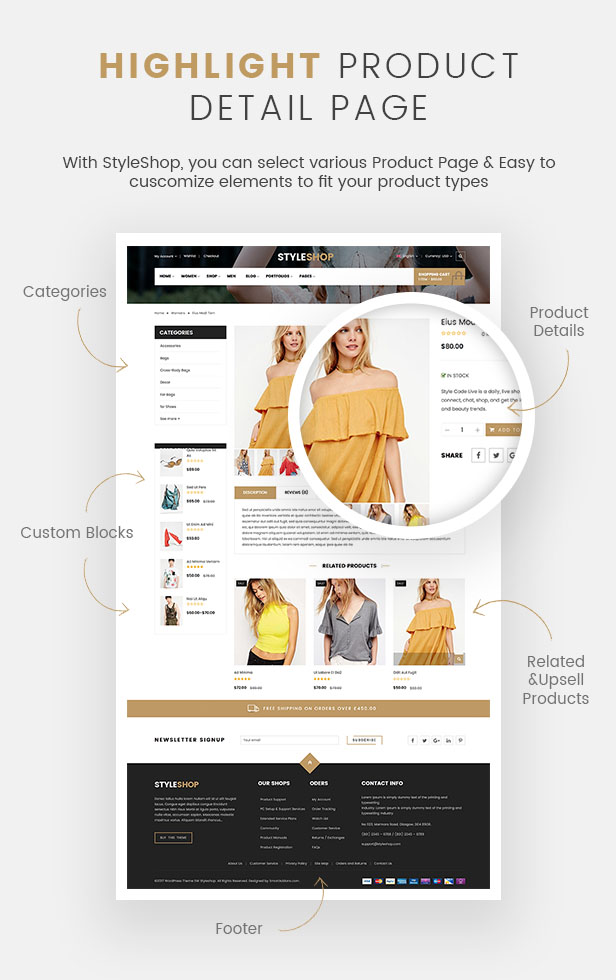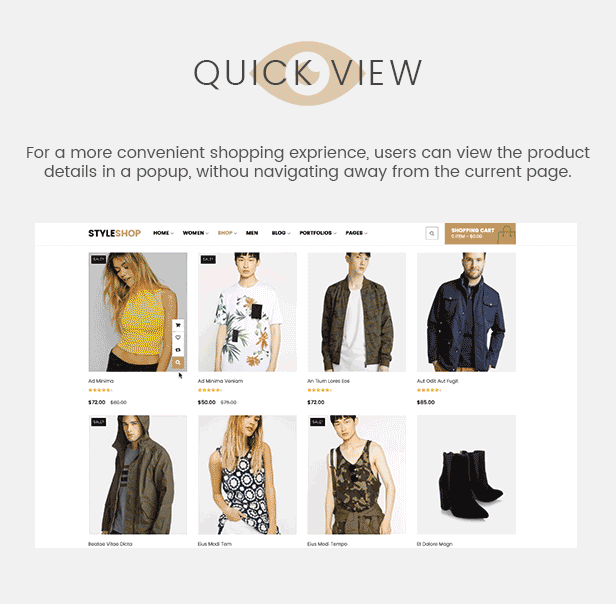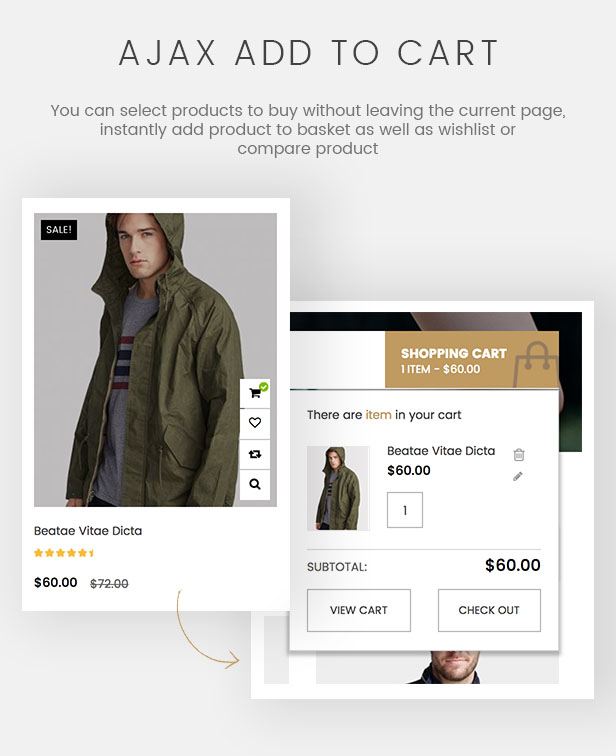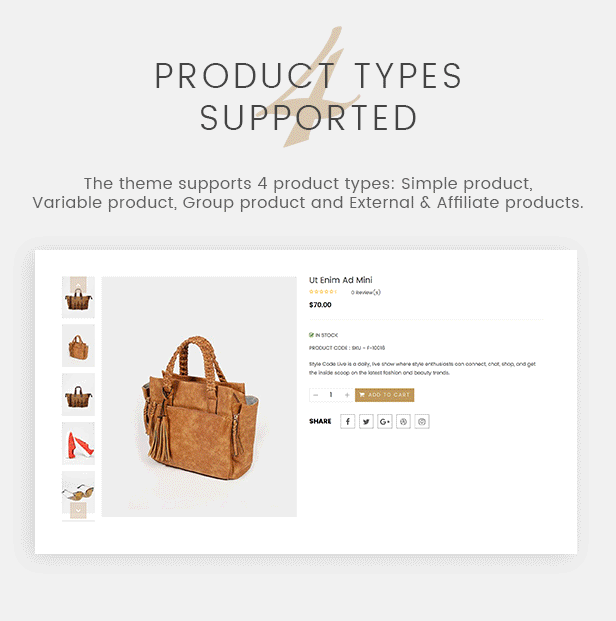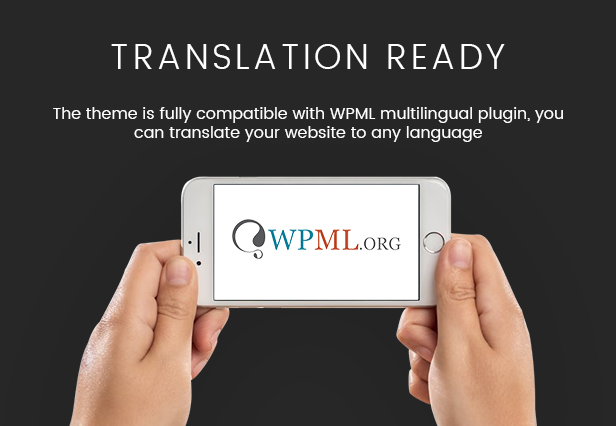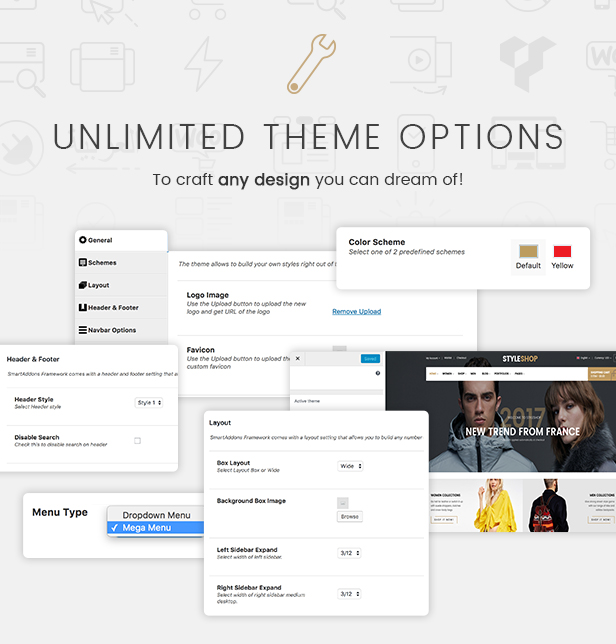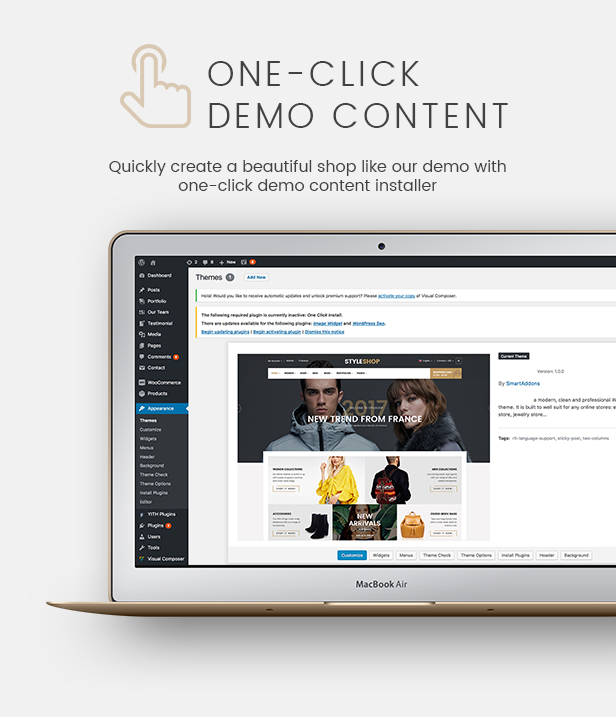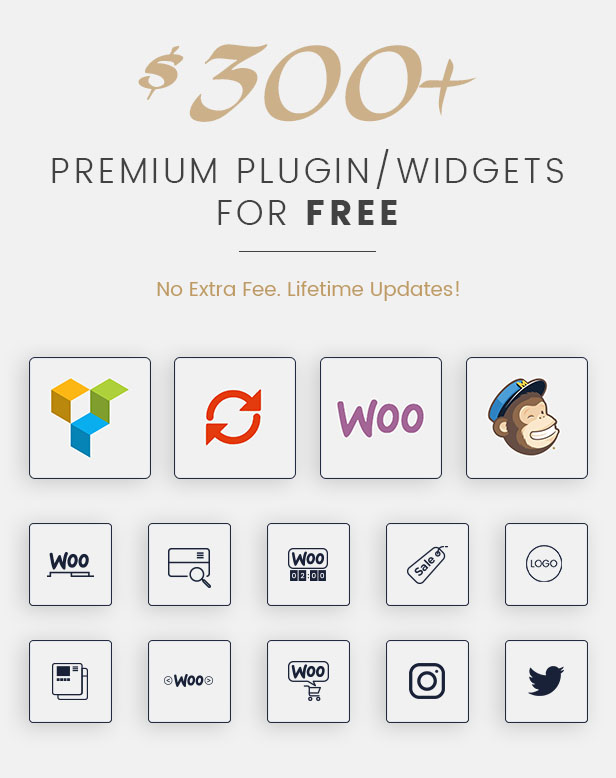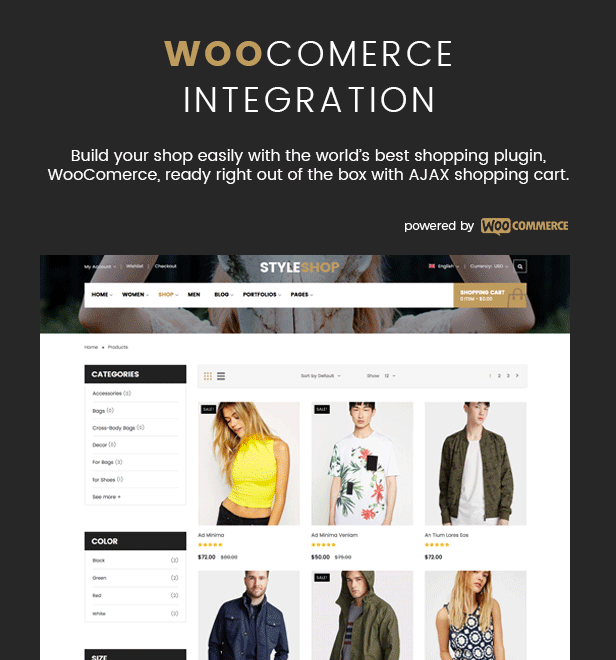 Full Feature List
4+ Homepage Layouts
Mobile Layout Supported
Compatible with WordPress 5.3.x
WooCommerce 3.9.x Ready!
Revolution Slider (advanced page builder) Worth $19 – included
WPBakery Page Builder Worth $34 – included
MailChimp for WordPress
One Click Import Demo Site – Easiest and fastest way to build your website
Child Theme Included
Compare & Wishlist support
Different Header Styles
Various Shortcodes – Get creative with unlimited combinations of easy-to-use shortcodes and quickly create any type of page you like.
Responsive WordPress Theme
5 Preset Color Styles
Google Fonts Included
Fully integrated with Font Awesome Icon
Built in with HTML5, CSS3 & LESS
Contact Form 7 ready
Easy Customization
Typography – Highly customizable typography settings,
Support menu with Mega and dropdown style
Support primary menu location, widget sidebars
SEO Optimized
Blog Layout Options:

Left Sidebar with Grid view (2-4 columns)
Right Sidebar with Grid view (2-4 columns)
Left Sidebar with List view
Right Sidebar with List view

Post Format Types:

Post Format Image
Post Format Audio
Post Format Gallery
Post Format Video

Multiple portfolio pages: Portfolio Masonry, Portfolio 2-4 columns
Translation – WPML compatible and every line of your content can be translated
RTL Support
Support to add custom CSS/JS
Cross browser compatible – It works fine under modern, major browser (FireFox, Safari, Chrome, IE10+)
Download PSD files worth $12
Free Lifetime Updates
THEME SUPPORT:
Forum Support: Join our public WPThemeGo Community at forum.wpthemego.com to find the frequently asked questions, post your problem and get support to solve it.
Ticket System: Submit a ticket about your problem on WPThemeGo Support at support.wpthemego.com to get help from the support team. All your information will be kept confidental.
*NOTE: After submiting the ticket, please check your Inbox and Spam Box if you recieve the notification email. If not, please email us via contact@wpthemego.com then we can support you better.
CHECK OUR POPULAR WORDPRESS THEMES:
Change Log
------------ VERSION - 1.5.8: Released on Feb-25-2020 ------------
[+] Update WordPress 5.3.2
[+] Update WooCommerce 3.9.2
[+] Update Revolution Slider 6.1.8
[+] Update WPBakery Page Builder 6.1
[+] Update list Sortby according to WooCommerce data
[#] Bug fix: Fix bug with price and tax in minicart
[#] Bug fix: Fix other bugs in previous versions

------------ VERSION - 1.5.7: Released on Nov-18-2019 ------------
[+] Update WordPress 5.3
[+] Update WooCommerce 3.8
[+] Update Revolution Slider 6.1.5

------------ VERSION - 1.5.6: Released on Sep-09-2019 ------------
[+] Update WordPress 5.2.3
[+] Update WooCommerce 3.7.0
[+] Update Revolution Slider 6.1.1
[+] Update WPBakery Page Builder 6.0.5

------------ VERSION - 1.5.5: Released on Aug-05-2019 ------------
[+] Update WordPress 5.2.2
[+] Update WooCommerce 3.6.2
[+] Update Revolution Slider 6.0.8
[+] Update WPBakery Page Builder 6.0.3
[+] Update Bundle Product

------------ VERSION - 1.5.4: Released on Apr-26-2019 ------------
[+] Update WordPress 5.1.1
[+] Update WooCommerce 3.6.2
[#] Bug fix: Fix bug with Ajax Login by Email
[#] Bug fix: Fix bugs in previous version

See Full Changelogs